Ann Smith Communications, Inc. will never request or collect data from a visitor on subject areas including sexual orientation, political or religious affiliations, or medical data. If a visitor elects to provide us with personally identifiable data and voluntarily "opts-ins" to allow us to use such data for our own marketing, sales and/or prospecting purposes, this data will be kept in strict confidence and will be treated with the same level of respect and care that we treat our other proprietary information and trade secrets. We will never sell, rent, exchange or barter any personally identifiable information to or with any third party for pecuniary gain or marketing purposes.
Security Precautions
Ann Smith Communications, Inc. makes every effort to maintain the security of its network and the data we collect. Any data that is stored on our server is treated as proprietary and confidential and is not available to the public. Ann Smith Communications, Inc. has a strict internal security policy with respect to the confidentiality of customer and other data, limiting access only to those employees who have a need to know such information for the purpose of effectively delivering our services.
If you have questions or concerns regarding Ann Smith Communications, Inc.'s Privacy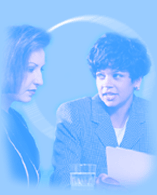 Statement, please send an e-mail to info@annsmithcommunications.com or you can send correspondence to the following address: Privacy, Ann Smith Communications, Inc., 13603 Brass Harness Court, Herndon, Virginia, USA, phone: 703.742.0440, fax: 703.742.6252, e-mail: info@annsmithcommunications.com
©2001 Ann Smith Communications, Inc.